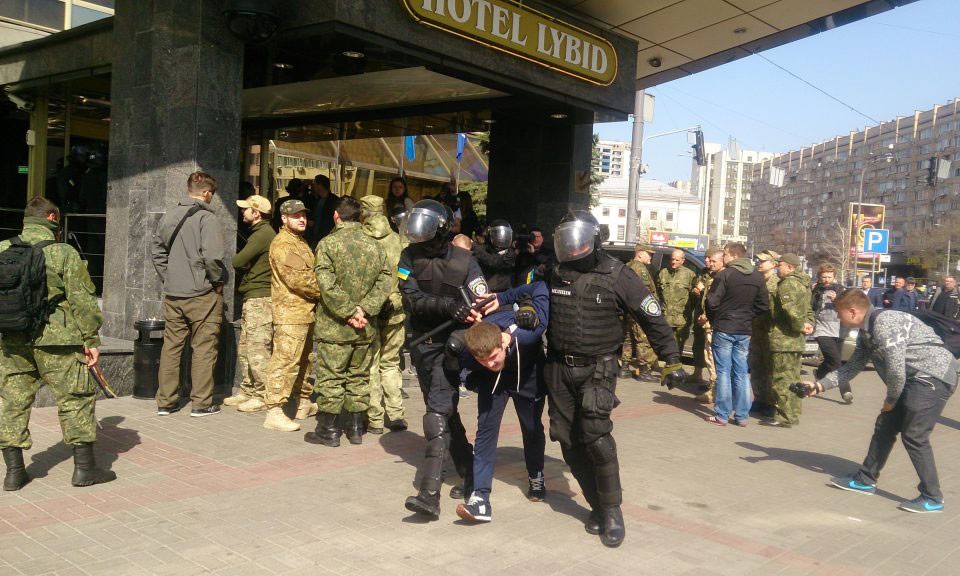 ILLEGAL TAKEOVER OF "LYBID" HOTEL
No matter how well you would conduct your business in Ukraine, no one is secured from the situation as follows: one morning he may wake up and see that his assets will be in the ownership of another legal entity or natural person. If evil-doers have resolved to take away your business, they often put into action a popular tool in the recent time: "black notaries".
(Cтопкард з відео 112.ua)
"BLACK NOTARIES" IN ACTION
Violating norms of the law and ignoring a common sense, some notaries literally rewrite registers of shareholders and deprive real owners of title to their assets. As a rule, criminals plan such "special operations" in advance and thoroughly. These operations are the first step of a number of further manipulations with assets (the more time passes from such illegal deal, the more difficult it is for a real owner to protect his rights).
Precisely this "special operation" was held by a group of persons in relation to VAT (Open Joint-Stock Company) "Hotel Complex 'Lybid' ". With a major breach of the law, a notary "has transferred" "Lybid" Hotel from the legal owner to a third party. Attempts to litigate and reverse the notary's decision with the help of the own legal service came upon a failure: administrative courts of the first and appeal instance did not find anything illegal in the actions of the notary.
It is never late to defend yourself
Ario's team joined the defence of vat "HC 'Lybid' " at the stage of preparation of the cassation appeal for hearing. Well-established legal position has made it possible to convince the supreme administrative court to listen to the defence, cancel previous decisions of the courts and remand the proceeding for reconsideration to the district administrative court.
In addition, Ario's Partners and lawyers gained a repeal of resolution of relevant investigator of the national police on termination of the criminal proceeding in accordance with the fact of notary's illegal trespasses (classified as a fraud committed on especially large scale or by organised group).
Therefore, as of now, Ario provides a legal support to "Hotel Complex "Lybid" in administrative and criminal proceedings.
Early entry into the proceeding, legal position, client's defence strategy and defence tactics, which were developed by Ario's lawyers, give reason to predict that the rights of the legitimate owner will be restored and criminals will compensate the incurred losses and will suffer a just punishment for their criminal acts.